Selling services is one of the many struggles a Service Advisor faces. Explaining the importance of a service or repair is difficult enough, but trying to sell the value is even harder. Don't just tell a customer about the issue; send them an inspection report generated with tech notes, recommendations, and images that are delivered by text message or email.
Digital Vehicle Inspections
Make Your SMS Mobile
Start ROs at the vehicle.
Send Inspection Results with Photos
Text or Email, your choice.
Text Customers
Stop waiting for the phone to ring.
Auto-Schedule Appointments
Drive next visits now.
Increase Precision
Realtime information to and from your Shop Management System.
Print Lube Stickers
Print Reminder Stickers from your Tablet.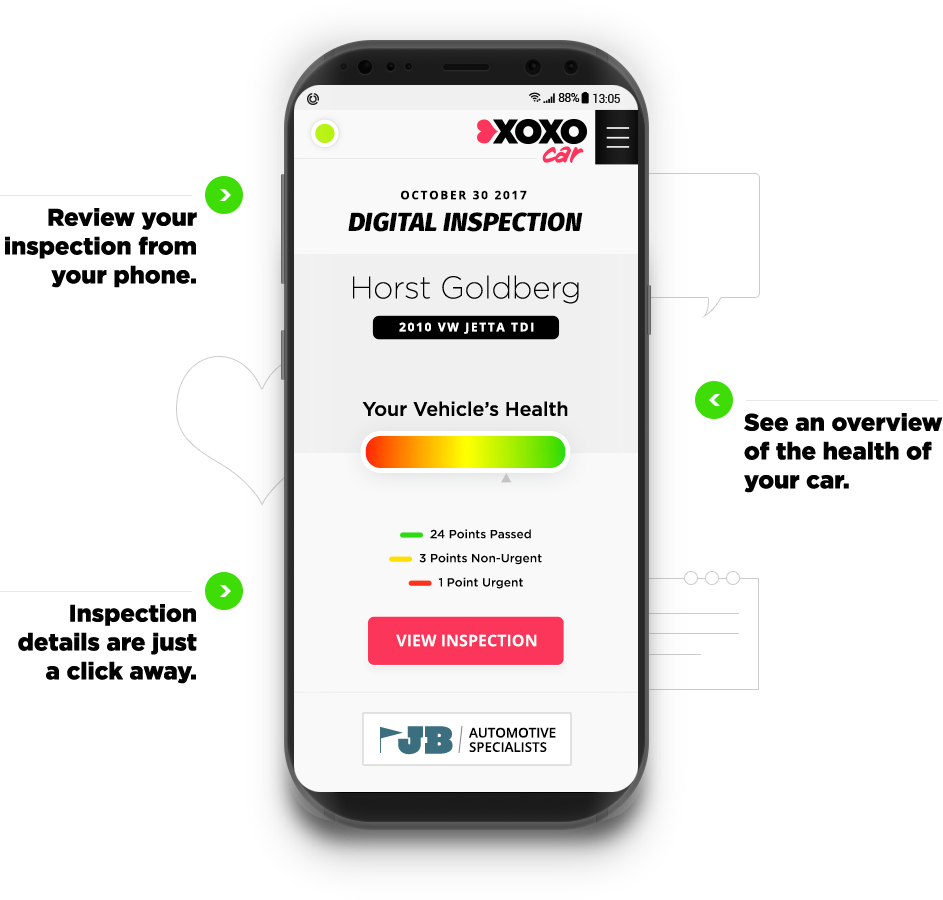 Scan VINs
Decode VINs and License Plates.
Access SureTrack & ProDemand
Get specific Vehicle Repair Information and Most Common Issues.
Stay Connected
Send messages from the front to the shop floor.
Accurate Job Labor Time Tracking
It is important to know how long a job is billed for, and how long it takes for the technician to complete it. Keeping track of a shop's labor margin increases efficiency. To help shops with this process, we have integrated the time clock feature into our auto repair software.
Complete Shop Management Integration
Mobile Manager Pro fully integrates with Mitchell 1, ShopKey, ALLDATA, NAPA TRACS, R.O. Writer, and more. Now your shop management system creates color coded task lists directly on the tablet, eliminating the need for tech worksheets. 
The North American ARO currently sits at
$322.00

per vehicle. ARO for BOLT ON TECHNOLOGY shops currently stands at

$512.00

per vehicle. That's a

59%

increase!
VIN Scanning and License Plate Decoding
Imagine never making a mistake again with a VIN. Our technology has been designed to use the optical camera available in your device to photograph the VIN and deliver 100% accuracy to your management system, saving valuable time!
Get the tools to make your shop look more professional, more efficient & more productive.
VIN Scan - Scan the Vehicle Identification Number on the vehicle, perform a VIN decode, and update your management system.
License Plate Decode - The technician can enter the license plate and the management system will be updated with the full vehicle information.
Print Lube Stickers - Technicians can wirelessly print lube stickers from the shop without walking to the computer.
Go paperless – Eliminates the need to hand-write documentation and saves on paper and printing costs.
Increase precision – Customizable multi-point inspections allow shops to build an inspection for the most common jobs and then use the prebuilt inspections over and over.
Engage customers – Direct communication with customers from a tablet, including texting or emailing vehicle photos, can speed up the approval process.
Build customer confidence – Vehicle-specific photos show customers what repairs are needed and will empower them to make the best decisions.
Stay connected – The Team Chat feature allows shop employees to connect to anyone in the shop instantly.
Work remotely – Shops have remote access to the full management system for scheduling, text message reminders, customized reports and invoices, and the other features integral to your shop management system.
Actual Labor Time – See exactly how much time techs are spending on jobs, increasing Labor Time Efficiency.
Mobile devices (Tablets/Phones)
Minimum Requirements
o Operating System: Android OS 5.0 or better
o Processor: Quad Core
o RAM: 2GB or more
o Camera: 5 megapixel or better rear facing camera
o Storage: 16GB or more
While the above represent the minimum specifications for Mobile Manager Pro, each type of device has its own set of configurations that can change the performance of the program. The manufacturers of the lower cost devices do not allow the device to update to the latest version of the Android System. Due to this, there will be a time that our minimum Android version increases to take advantage of the newest features available on the platform, in which case the lower cost devices that cannot be updated and will not be able to update to the latest version of Mobile Manager Pro. Since we cannot control those factors, we recommend and stock the following devices:
o Samsung Galaxy Tab A (8 inch)
o Samsung Galaxy Tab S2 (9.7 inch)
These two devices offer the best experience at a reasonable price. If you decide to seek other types of tablets/phones using the minimum specifications, we cannot guarantee the app will perform sufficiently. Selecting non-recommended devices can cause poor performance and results.
Shop Internet Configuration
Internet
Minimum Speed Requirements
o Ping: Less than 20ms Ping represents the reaction time of your connection. The higher the number, the more likely you will have latency (delays) in data transfer to and from the web.
o Download: 1mbs per device
o Upload: 1mbs per device Example: If your shop has 5 computers, 5 VoIP phones, 10 employee cell phones, and 10 tablets; that equals 30 devices. Your minimum Download and Upload speed would be 30mbs/30mbsWireless
Minimum hardware requirements
o High Performance GB Wireless Router. Router should be centrally located in the building
Shops are built mostly of cinder block and metal framing. This architecture can limit the range of your Wi-Fi connection and create weak signal strength in the middle of an open space. When outfitting your shop with Wi-Fi, the primary high performance wireless router should be centrally located in the building. Once the Wi-Fi is available, the signal strength should be tested at all areas in which Mobile Manager Pro will be utilized. If necessary, add wired wireless access points to strategic areas of your shop that will provide strong signal strength where needed. The SSID and Security Key for each access point should match that of your primary wireless device. This allows for the devices to transition seamlessly while moving around your shop. Your Local Area Network (LAN) must be on the same network. This is achieved by having only one device on your network serve DHCP and all devices that need to communicate with each other must receive their DHCP from that device and have permission to communicate with each other across the network.  
We recommend the following device:
o Netgear WNDR4500 N900
If you decide to seek other types of routers using the minimum specifications, we cannot guarantee the device will perform sufficiently. Selecting a non-recommended device can cause poor performance and lower results.
Data Host Computer
The data host computer should always use a wired internet connection. Using a wireless connection for the data host computer reduces the ability of the computer to serve the data by 50% when using a high performance wireless router. This especially holds true when the database is a MS Access database as corruption will occur if there is even a brief interruption to the Wi-Fi connection.
When Used as A Workstation 
Recommended Requirements
o Core i7-6700K or equivalent processor o If custom building your unit, be sure to select a motherboard that will support the processors capability.
o High Performance gaming quality video card
o 16 GB RAM
When Used Only as a Server - While a Xeon processor is listed in this section, please consider whether your requirements for the server require this higher cost processor. In most small and medium sized automotive shop implementations, the Core i7 processor listed above will do just fine at a fraction of the cost.
Recommended Requirements
o Xeon Processor E7-4809 v3
o 16 GB RAM with room for expansion
Workstation Computer - Although minimum specifications from the Shop Management System companies may indicate lower specifications for a workstation's computer. We recommend the following computer specifications due to the computer being used for more than just the shop management system itself for things like running reports, add-on programs (such as BOLT ON TECHNOLOGY's), web browsing, and research for parts and how-to video tutorials.
Recommended Requirements
o Core i7-6700K or equivalent processor. If custom building your unit, be sure to select a motherboard that will support the processors capability.
o High Performance gaming quality video card
o 8 GB RAM with room for expansion